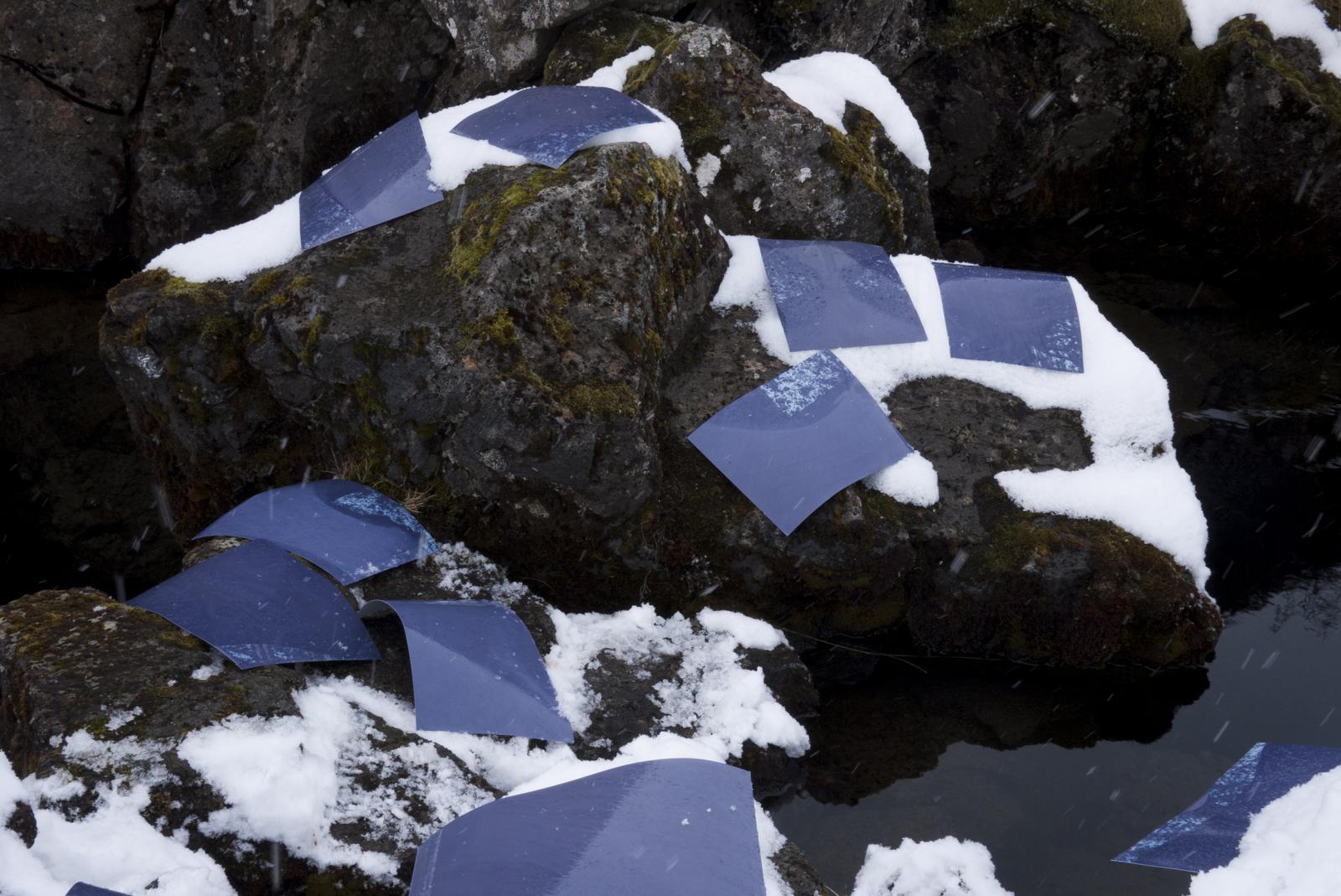 Imprint (Lake Thingvallavatn, Iceland) was shown at Deep Inside, 5th Moscow International Biennale for Young Art, Moscow, Russia, curated by Nadim Samman
The installation consists of a series of photograms transferred to slide-film projected in life-size (170x100cm). The installation takes you visually deep inside Lake Thingvallavatn in Iceland. The images are direct imprints of the rift-valley lake in which unexposed light sensitive photographic paper were submerged. The imprints on the photographic paper are chemical reactions to the ambient light, the water of the lake with it's high concentration of algae and the weather condition on the day they were made. The project visualizes what is not visible to the eye and put into focus the difference between living and non-living forms, between biological and geologital time. 
EXCERPT FROM THE TEXT 'OVERLAY: ECO ART AND THE ART OF PREHISTORY BY ELVIA WILK'
"Within the echibition 'Deep Inside', artists who could be considered as pursuing the age-old methodologies include Eli Maria Lundgaard, with her documentation of a forest expedition in the video 'Hundred Explanations For a Single Thing (2015); Claire Paugam's photographic documentation of raw meat splayed out across rocks in Attempting the Embrace no. 25 (2015); Juliana Cerqueira Leite's 'Three Dances' (2015) a group og pseudo-monumental plaster sculptures produced on-site through impressions formed by the artist's body as she performs dance movements; or Veronika Geiger's exposure of photographic paper into a lake in Icealnd to record the ambient light penetrating the water for 'Imprint (Lake Thingvallavatn, Iceland) (2015). These are highly situated practices, fully engaged with the present moment and the subjective experience of natural surroundings; they are rooted in the act of leaving a human trace on material reality, however fleeting; in those regards (and regardsless of the technological means of their documentation), these methodologies will always be both ancient and contemporary. They will always be relevant."