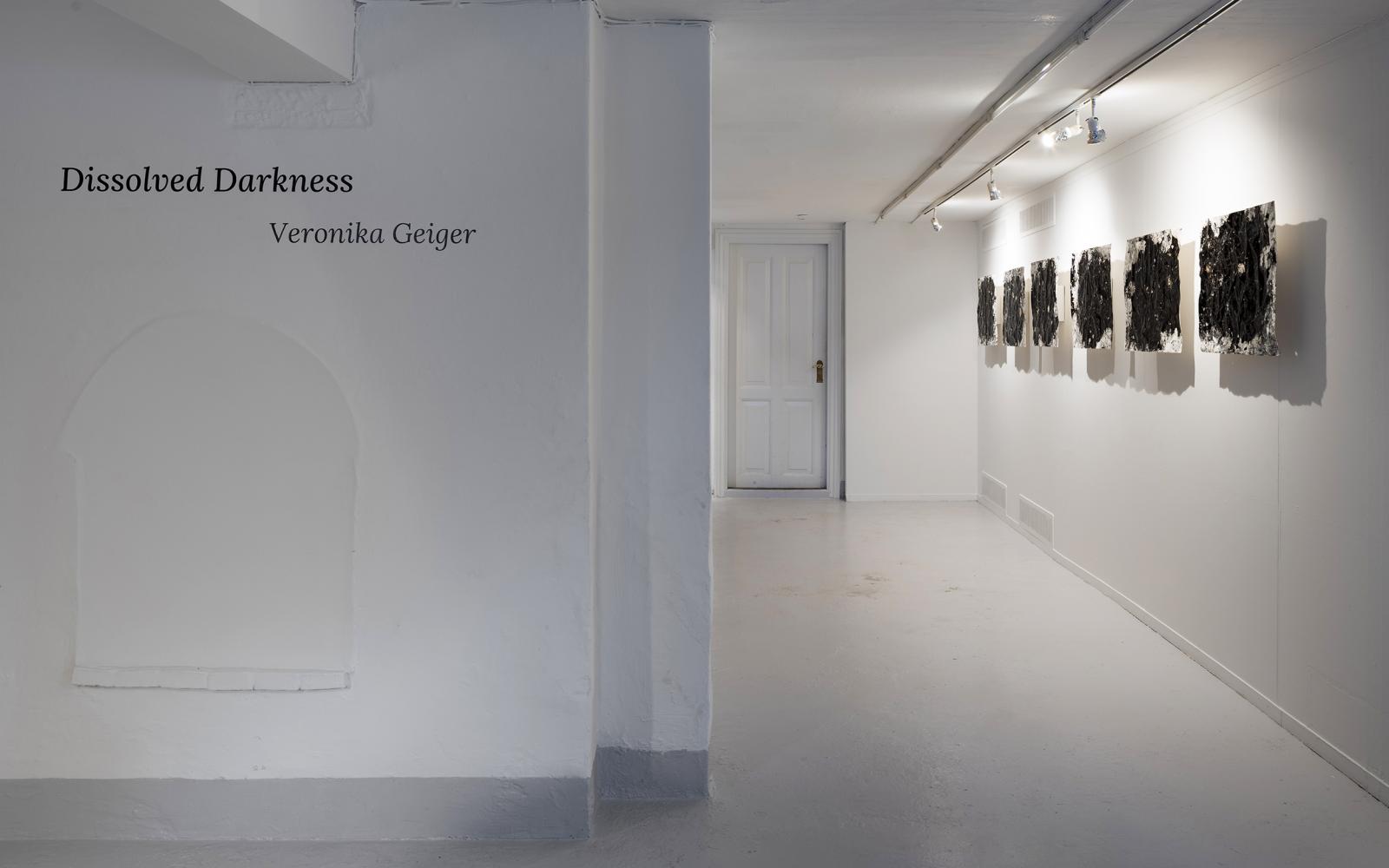 Dissolved Darkness was shown at Galleri Image in Aarhus, Denmark.
The exhibition consisted of a series of photograms made directly in a lava cave, a 2-channel HD video with sound (09'55"), a diptych showing new lava and objects (lava stones from the recent (2021) volcanic eruption Fagradalsfjall in Iceland shown on stone shelves made of lava rock from Etna, Sicily).
In connection with the exhibition the seminar Between Earth and Art was held at Kunsthal Aarhus, Denmark. Presenting three different talks by art historian Jacob Wamberg, geologist Maja Bar Rasmussen and artist Veronika Geiger followed by a conversation moderated by cand.mag Emil Valdemar Meyer. The seminar was arranged by Galleri Image.
Link to the abstracts of the speakers: Seminar: Between Earth and Art
See the full seminar in the videos below. 
Photodocumentations of the installation: Mikkel Høgh Kaldal
Photodocumentations of individual works: Veronika Geiger
In the exhibition Dissolved Darkness Veronika Geiger explores the human connection to the Earth through photography and video.  

Nature is often viewed as something that has been conquered by humans. But nature has its own life far removed from humanity's fleeting existence. It is this nature, and this life, that Veronika Geiger explores in Dissolved Darkness. In the remote Icelandic landscape, Geiger has explored two natural phenomena: an underground frozen lava cave at Snæfellsnes and the erupting volcano Fagradalsfjall. Inspired by geology and its exploration of Earth's deep time, she has created photographic experiments and video works that raise questions about the human connection to caves and volcanos.  

In Geiger's works, we meet two geologically connected natural phenomena; the volcano and the cave from which we originated but which we now only rarely encounter. Geiger's photographic experiments are created without a camera, using the lava cave as a darkroom, and were developed in a fusion of photographic techniques and geological field work. The video work on the other hand, explore the juxtaposition of the volcano with its liquid landscape-forming magma, the careful field work, and the form, sound and life of the frozen cave. The work brings us closer to the forces of nature, their time, and their relationship to that time. They create threads to the current climate crisis and the question of what the human relationship to nature really is.