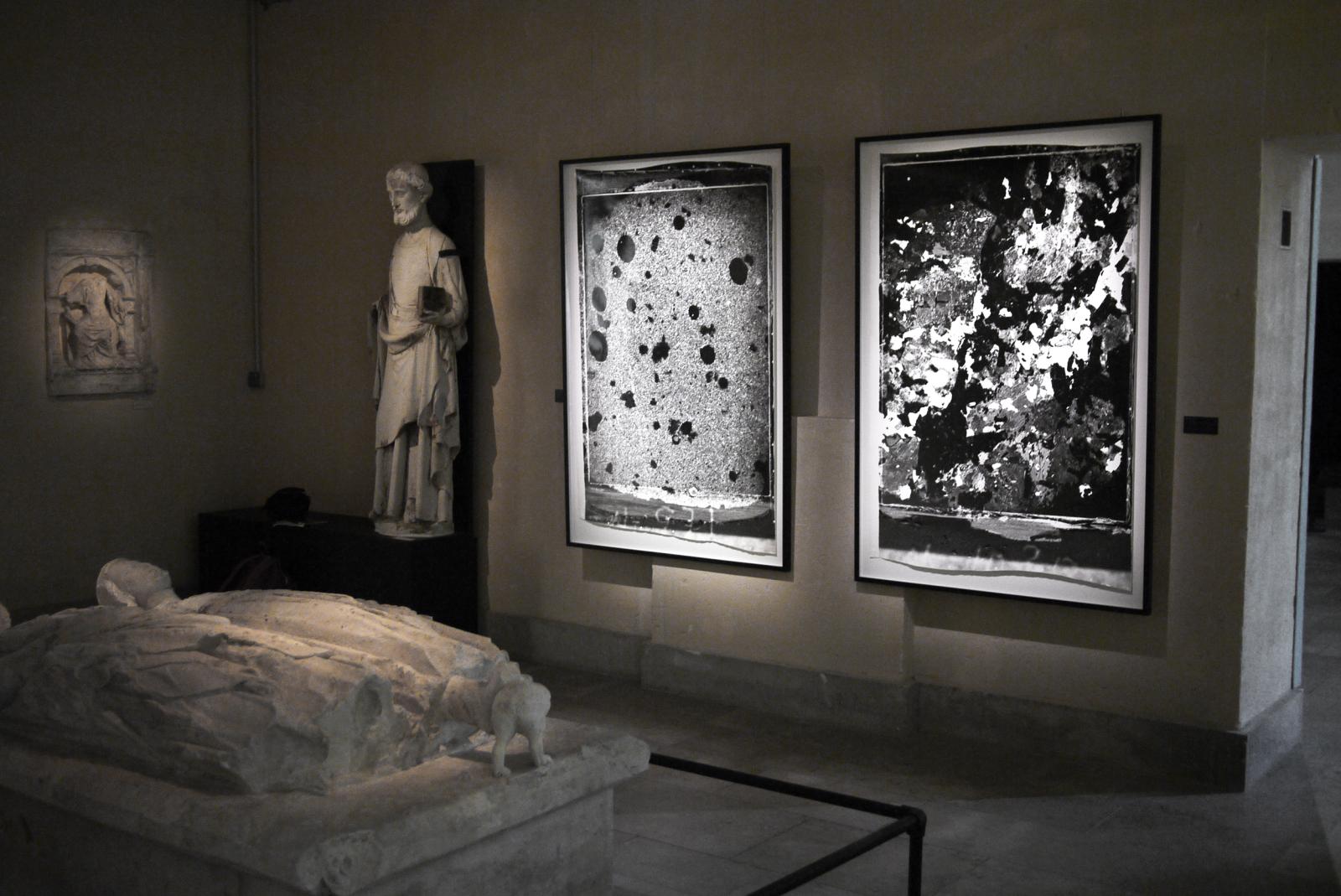 Eight Danish artists, 2022
Hraun (2016) and Conglomerate Diptych (2021) was shown in the group exhibition Eight Danish Artists, at Jumièges Abbey, Normandy, France, arranged by Lumiéres Nordiques.
The works gathered in this exhibition are an opportunity to discover a wealth of contemporary creation in Denmark. Photography is associated here with a rich palette of projects: works with a documentary profile intersect with original plastic and conceptual adventures. Nature plays an important role: exploration of the mineral and plant world, contemplation of light. The artists reflect on time, question their perception of the world; they revisit the history of painting, digitally retouch images or reappropriate old processes, sometimes even operating without using a camera. Other supports than paper and other mediums than photography are involved in their creation. But beyond this diversity of approaches, the works weave links with the place that hosts them (the stones of the monument, the trees of the park, the lapidary of the abbey dwelling), as well as with the historical and artistic heritage of Normandy in which the site of Jumièges is located.
The exhibition Eight Danish Artists is produced by the Department of Seine-Maritime in the framework of Lumières Nordiques.
EXHIBITION TEXT BY GABRIEL BAURET
These entirely abstract images result from an exploration of combining art and scientific research. This artist takes the viewer into the mineral realm, specifically the volcanic rock from a lava desert in Holuhraun, Iceland. The work was undertaken in close cooperation with geologists and their parent institutions. At the Institute of Natural History, Veronika Geiger recorded microscopic sections of rocks dating from a wide range of periods for the Hraun series. Some of the rock is thousands or even millions of years old, while others were recently discovered during expeditions that the artist accompanied. She doesn't photograph them, the rock matter is projected and recorded directly onto a large-format paper surface, and she lets it speak for itself. In her early work, Veronika Geiger carried out project involving immersion in nature without a camera but rather chemistry and photographic paper, a little like Man Ray, in another dimension with his photograms. This close relationship with the very matter of landscapes combines with her interest in land art, born during a stay in the United States, where she discovered the New Mexico desert. Besides the scientific significance, the magnification of the rock samples moves the project into the visual realm. Moreover, being in black and white contributes to detaching the image from the reality of the world that Veronika Geiger explores in her work.