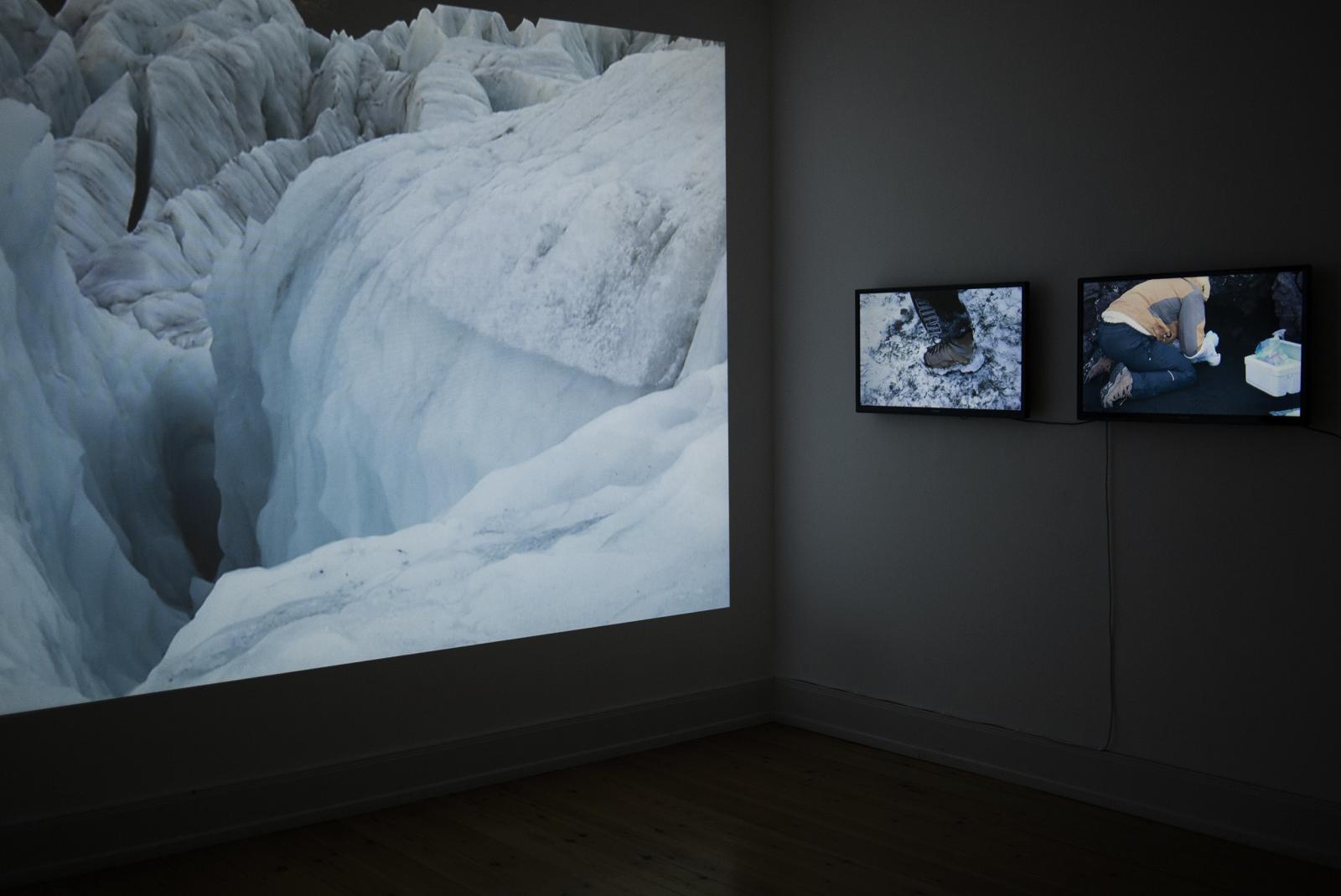 Imprint was shown at Vejle Kunstmuseum in Denmark.
Imprint consisted of photographs, objects, and video installation. 
The exhibition was spread across two spaces where the first one included an ongoing photographic experiment. The experiment took it's starting point in Vatnajökull glacier in Iceland. The images were disappearing during the exhibition period putting into focus the fact that the melting of glaciers across the planet is accelerating. The chemical reaction between the unfixed photopaper and the microbial life was documented on video. The other space of the exhibition showed the videoinstallation Field Work that took the viewer on a walk on the glaciers and showed geologic field work along artistic processes. 
Link to a digital version of the show: Interactive Imprint 
EXCERPT OF EXHIBITION TEXT BY TRINE GRØNE, INSPECTOR AT VEJLE KUNSTMUSEUM
Veronika Geigers kunstneriske praksis fokuserer på menneskets forhold til naturen. I sit fotografiske arbejde undersøger Geiger forskellige perspektiver på de store landskaber og geologiske fænomener. Den nuværende geologiske tidsalder, den antropocæne epoke, markerer perioden for menneskeskabte klimaforandringer. Klimakrisen har sat vores forhold til naturen i fokus og tvinger os til at stoppe op og forholde os til den jord vi bor på. Udstillingen Imprint forholder sig til den antropocæne tidsalder gennem en serie billeder, hvor naturens egne substanser er det billeddannende element. Projektet er en større serie af billeder fra fem forskellige lokationer i Island: Grotte på Snæfellsnes, kratersø i vulkanen Askja, Vatnajökull gletsjeren, Lake Thingvallavatn og Lake Mývatn. 
Geigers tilgang er, vil man forstå naturen, må man være til stede i den. Derfor har hun opholdt sig i naturen i længere perioder og deltaget i flere geologiske ekspeditioner, hvor hun har fulgt geologers arbejde og observeret de tidslige lag i sten og bjergformationer. Kunstnerens indsamling af materialer og fotografiske dokumenter fra disse feltture danner grundlag og ramme om udstillingen.